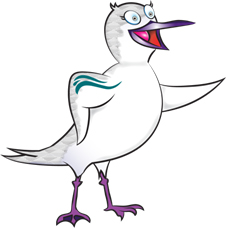 Meet Sandy Dollar "the Savings Sanderling". Sandy wants you to start off on the right financial foot. That is why she encourages everyone to open up a savings account at Southern Lakes Credit Union. By opening up a savings account, Sandy knows that you will begin to develop good habits by putting away money today so you have it to use in the future.
When Sandy is not sharing ways you can be a super saver, she can be seen on a lake nearby you, counting her dollars.
Be like Sandy Dollar and fly into the savings your dollars deserve.
At Southern Lakes for youth up to the age of 12 we have a special savings account just for you. This account allows you to begin saving money in your own name. Sandy will make the first Deposit of $5.00 for you (this is the minimum you need to keep in your account to keep it open). Every time you make a deposit you get to pick a prize from Sandy's beach treasure chest. On your birthday Sandy will send you a card with a special surprise.