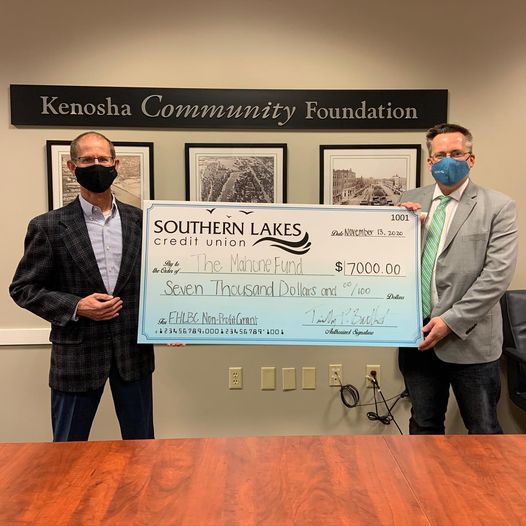 Happy Thursday! We are excited to bring you another
#ThankYouThursday
. We are blessed and thankful to once again be in a position to make financial contributions to some vital nonprofit organizations serving our area.
The Federal Home Loan Bank of Chicago has generously offered us a matching funds grant in order to assist non-profit organizations that specialize in education, housing and childcare. Southern Lakes Credit Union is committed to supporting our members, and the communities we serve now more than ever. Through our partnership with the Federal Home Loan Bank of Chicago we are proud to announce that we have provided grants to three different non-profit organizations within our community.
The Mary Lou and Arthur F. Mahone Fund was created in 1999 to perpetuate the legacy of two dynamic change agents who advocated for social justice in Kenosha. This amazing couple was married 51 years and raised nine children. Today their philanthropic legacy lives on in the work of the Mary Lou and Arthur F. Mahone Fund, under the leadership of their children.
"The Fund offers the Career Exploration Organization (CEO) initiative which is designed to match low- to moderate-income youth with a business mentor in order to create a pathway for career success, and thereby establishing a pipeline for their college scholarship program. To date, they have awarded over 230 college scholarships.
In addition to the scholarships, they honor local humanitarians with the Living Legend and Signature awards for their transformational and sustainable support to the overall mission and success of the Mahone Fund. The annual Reaching for Rainbows "Pursuit of Excellence" gala and the Harbor Park Jazz, Rhythm and Blues festival are just a few of the fundraising activities this remarkable organization coordinates."
We sincerely thank The Kenosha Community Foundation and The Mahone Fund for the tremendous contribution they make to our community and are delighted to help contribute to their mission.